~~REVEAL~~
For the…
Prusa i3 Mk3s
In this induction you will learn
the safe efficient operation of a 3D Printer

what you can achieve with a 3D Printer

a basic intro to designing for 3d printing TinkerCad

how to prepare a simple design for printing.

how to identify problems and what to do when problems occur.
Requirements
Closed footwear.

Participants must be over 16 years of age

3D Printing Assessment paperwork (supplied)
Prusa i3 MK3s+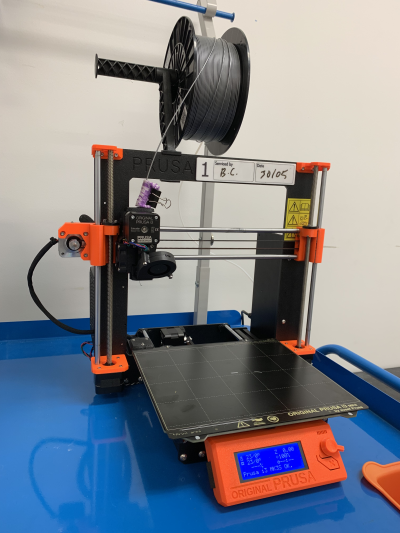 The Prusa i3 MK3s+ is a successor to Original Prusa i3 MK3 with hardware and software upgrades which lead to improved reliability and ease of use and assembly.
The Edge purchased 5 Prusa i3s printers to replace the ageing Up mini 2s.
Summary
Build volume – (250(W) x 210(D) x 210(H) mm (11,025 cm3)

0.4mm nozzle

PEI print surface
FILAMENT MATERIALS
In theory, the Prusa i3 Mk3s+ can be set up to print using a range of filaments including:
| | |
| --- | --- |
| PLA | Polylactic acid (Starch based) |
| ABS | Acrylonitrile butadiene styrene |
| PETG | Polyethylene terephthalate (Glycol modified) |
| Nylon | Polyamide |
| Composite Materials | Often PLA with carbon fiber, metal or wood fill |
| HIPS | High-impact polystyrene |
| PVA | Polyvinyl acetate (Water-soluble Print support) |
| PP | Polypropylene |
In practice, we control the types of filaments permitted for printing, due to the emissions they produce when melted. For the full range, see: Supported Filaments
Overview
Maintenance
Manual
prusa3d_manual_mk3s_en_3_11.pdf
---
Elements of this wiki entry have been adapted from the Prusa 3D Manual Mk3S; English Edition, which is published under a CC attribution licence and is available here
Induction Materials
3D printing operations
Below describes guidelines for coordinating public access of the 3D printers.
Prusa Slicer
Prusa Slicer is the version of 3d Slic3r adapted for the Prusa i3 MK3S
Prepping your 3d model for printing
| | |
| --- | --- |
| | |
| 1 | Open the PrusaSlicer application. If you are prompted that a Configuration Update is available, click to install the update before proceeding further. |
| 2 | Use the Add button to load models into PrusaSlicer |
| 3 | Delete Delete All buttons remove the model(s) from PrusaSlicer opens the detailed settings of print , filament and printer |
4
Use Move, scale, rotate , Place on Face and cut tools to prepare the model to printing in the most efficient/ effective orientation,
10

Check the Sliced Info for the cost and how long its going to take to print before exporting your gcode
The Edge charges 15cents / gram and your print needs to be finished before the Lab Closes - talk to the Fab Lab Supervisor if you have a long job you'd like to do .
11
Generate and export gcode to the SD Card by clicking the Export G-Code button .
Designing for 3D printing in TinkerCad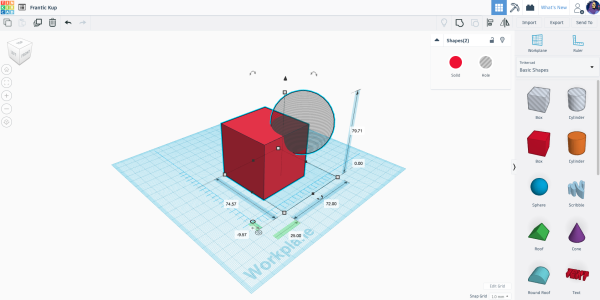 Thingiverse