Book and use a CNC router for free once you've successfully completed your induction.
The Edge's bookable CNC Router is a -
Multicam M-2412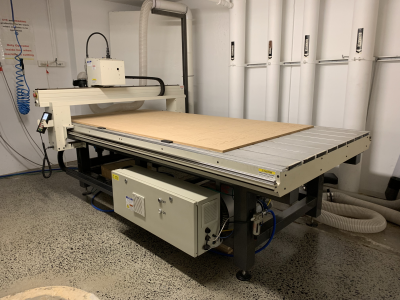 Working Area: 2440 x 1220
Materials: Timber, Plastics (up to 25mm thick) We have a range of of materials for sale in stock. Please seek approval from the Fabrication Lab Supervisor in advance if you are planning to cut materials sourced externally. AppliedCreativity@slq.qld.gov.au
Workflow:
Design files generated in vector drawing / CAD software (DXF, DWG)

Toolpaths programmed in Vetrix V-Carve CAD/CAM software.
---
For more technical information, the materials that can be used on our machines visit
---
And the up-to-date prices of materials in the Fab Lab Shop visit
IF YOU COMPLETED YOUR INDUCTION BEFORE 10 MAY 2019 YOU WILL NEED TO UPDATE YOUR MEMBER RECORD BY CALLING US ON 3842 9449 DURING THE EDGE OPENING HOURS OR DROPPING INTO THE SPACE.