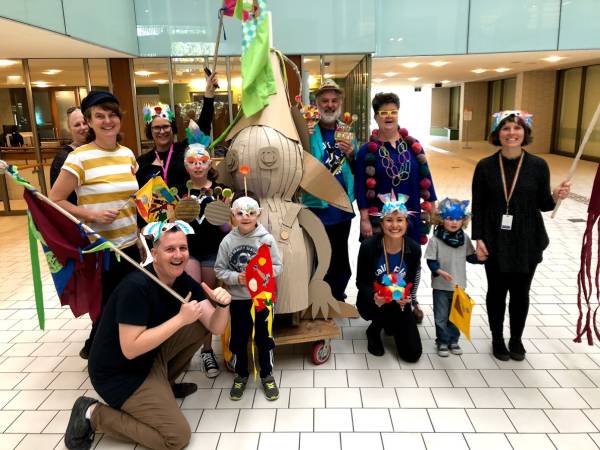 Workshop 1: Mask Making
Engagement Style: Drop-in workshop.
Venue: The Edge Auditorium
Dates: 9-14 July 2018
Capacity: Flexible, with craft table accommodating up to 20 people.
Staffing/Contractors: One arts worker.
Rationale:
The activity was inspired by one of the family workshops that was run in preparation for the GGR, during which the participants were asked to help come up with a central character (Lady Meg Wittica Bird) that would bring together the individual children's stories that were used as inspiration for the project.
The method used was an exquisite corpse-style activity, where different features and characteristics of various animals were highlighted, then combined together to make a hybrid animal character.
In addition to this narrative, the activity was designed for children to make something that could be worn/presented during the Rumpus Parade, the finale celebration for the GGR program. The masks were made from simple white paper plates that were cut in half, with holes punched out for the eyes and incisions made so to fit comfortably around the nose & face. The children were encouraged to colour and decorate the plates using pens, crayons, colourful cupcake wrappers and feathers.
Further options for various features were designed to be decorated, constructed and attached to the mask – these included ears, beaks, whiskers, horns, wings, spikes, eyelashes, etc. Again these were made from the same paper plates and were created by cutting and folding it in certain ways to give dimension. Finally, the mask was completed by attaching either an elastic band to fit and hold around the head, or a straw/paddle pop stick on one side so that it could be held up to the face, similar to a masquerade mask.
Workshop 2: Frog Percussion Making
Workshop 3: Flag Making