The Applied Creativity is the team within State Library of Queensland Public Library and Engagement directorate that manages & coordinates a range of programs and public facilities at The Edge,
The Applied Creativity team's mission is to empower creative experimentation for all Queenslanders in the fields of arts, science and technology. This is done through the development and delivery of innovative public programming, management Queensland's premier, open access Fabrication Lab and working in collaboration through diverse stakeholders to enable other places and spaces to do the same.
The following is a list of Community Engagement Projects the team have rolled out over the years and may be inspiration for a range of SLQwiki users.
In House Community Projects
GGR Internal Pages
The Great and Grand Rumpus was so well received, that it is happening again, this time with the results inhabiting the main gallery space at State Library and re-named Grumpus for the 2021-22 iteration!
Have a look, and get involved.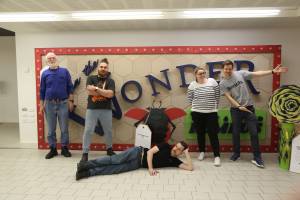 The Great and Grand Rumpus
This project ran for 6 months in 2018, and involved over 150 participants. Beginning with the imaginary worlds of very young children, people of all ages, from Men's Sheds and Design Schools as well as sundry makers workshopped, fabricated, decorated and animated seven Huge Things with no more than cardboard, hot glue and creative spirit.
It was wild.





One Last Apocalypse
Using the idea of Apocalypse as a focus, these resources describe a long and varied series of community engagements , some run in conjunction with a small regional public library (Deception Bay) and with several community organizations (Flexi Schools, Men's Sheds, migrant support groups), as well as the general public.
Activities included book clubs, making sessions, game and film nights, and others, all culminating in a public event designed and constructed by the participants.
This project (run in 2017) was the origin of the Cardboard Kaiju ideas, that were developed subsequently.




Cardboard Kaiju 1.0: Human Sized Game
The Cardboard Kaiju was one of the community derived ideas that emerged from the One Last Apocalypse project. In its first iteration, the Kaiju was an apocalyptic beast that served to build skills in fabrication and design. The Kaiju idea proved so engaging and popular that the idea of developing it into a game scenario became the next public engagement.
It serves as a good example of a stand alone community project, with a spectacular public event as a culminating outcome.
This could be reproduced if you have access to a large indoor space, otherwise, the following iteration could serve.



Cardboard Kaiju 2.0 : The Board Game
A further development of the Cardboard Kaiju project, this time focussing on the game development aspects of the activity. Reduced scale makes this form of the engagement more achievable for smaller spaces. The game design aspect is especially engaging for young audiences.







Fun Palace 2018
Fun Palace is a concept begun in the UK in 2014 (see : https://en.wikipedia.org/wiki/Fun_Palaces ) which places libraries at the centre of community creativity, seeking to combine Art and Science in a day of activities located in libraries. State Library of Queensland has embraced this concept, running yearly events offering a huge variety of activities for thousands of visitors on the first week-end in October.
These pages provide more than 25 ideas for engaging hands-on activities that could be adopted or modified by libraries who want to join the Fun.




Fun Palace 2019
Fun Palace 2019 took over the entire library and the Applied Creativity team took on less of an organizational role, however delivered some fun workshop activities as per our specialty.




Other Projects
And here are some examples of engagements which we have developed in collaboration with external organizations:
If you have any questions don't hesitate to get in touch with the AC team to discuss.