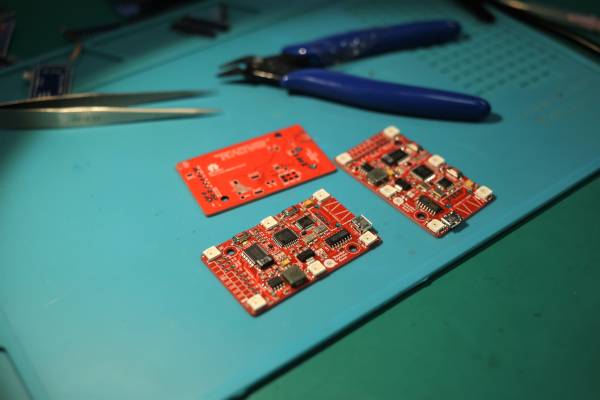 Developed by Daniel Flood 2017.
Summary
Workshop has been designed for the BrisMakerFest 2017 for delivery as a part of the program., to cover off on out wearables commitment. The unit price is cheap and based on older work and other people basic ideas. It might be easily modified to take other sensors and do other things but for the moment we're keeping it simple.
It was inspired by this project in Make Magazine that did it with a full sized Arduino.
Activity Summary
Participants will assemble and get to know how to code a wearable nightlight comprising of a Cheapduino, Light Dependent Resistor (LDR), LED and some resistors. There's a battery at the moment but once we get a super-capacitor battery in place we will swap it out. Odds are we will use some magnets to get them to pin to people's shirts.
Materials
1.5mm Acrylic

3x 220 Ohm Resistors

1x 10K Ohm Resistor

1 x LED (bright white)

1 x CR3024 coin cell battery

1 x CR3024 coing cell battery

1 x Cheapduino

Some wires

Some solder
Tools
Soldering Iron

Wire cutters

Hot glue gun
Instructions
Rename the steps as you like, use italics or bold for emphasis
Step Zero:
Step One:
Step Two:
Step Three:
Step Four:
Step Five: Troubleshooting
Step Six: References
Production notes
Critical Success Factors
Enable Access
Provide life skills and early childhood literacy programs

Increase free access to digital content

Strengthen Queensland library infrastructure and discovery platforms
Engage Community
Grow the State's historical collection of Queensland culture and heritage

Engage with communities of interest through dedicated centres of engagement

Facilitate the community's use of and interaction with content
Build Capability
Build capacity within our communities of interest

Generate new revenue sources

Position our workforce for the future
Delivering of The Edge Promises
Aside from the SLQ Strategic Plan, there is The Edge's commitments to the community and the lens we look at it through. Here are a few more check boxes for you to answer
This empowers creative experimentation across...
It will inspire...
Feedback
1. Feedback:
Solution:
2. Feedback:
Solution:
3. Feedback:
Solution:
4. Other observations:
References
Files
This is where you put files for laser cutting etc..