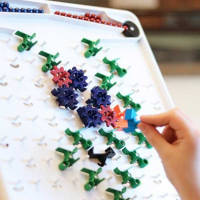 Turing Tumble is a new type of game where players build mechanical computers powered by marbles to solve logic puzzles. Use ramps, crossovers, bits, interceptors, gears, and gear bits to build marble-powered computers that can generate patterns, do logic, count, add, subtract, multiply, divide, and much, much more.
| | |
| --- | --- |
| Recommended Ages | Year 3+ (ages 8+) |
| Product Cost | $90-$100 |
| Where to Purchase | Turning Tumble can be purchased from their Australian distributor Core Electronics |
Loanable Kits
State Library does not have kits of this item available for loan to libraries.